Jenny Knows Howe
REAL ESTATE | JEUNESSE | CLEAN QUEEN
No matter how big or small your castle is, we'll make you feel like royalty.
Jenny Knows Howe to do ..
Jenny Howe - One of the most knowledgeable Realtors in our great community!
Having lived in Key West for over 23 years, Jenny knows dynamics of house designs, neighborhoods and schools around. She's been an entrepreneur and business owner, in home maintenance and property management locally for over 16 years which gives her a competitive edge where one needs it most.

Adding on, she possesses the talent to negotiate. She is well connected with her clients and employees giving her access to thousands of properties right here in the Sunny keys! Her innate sense to bring buyers and sellers together is truly why she is in real estate.
Jen and her team do a meticulous job cleaning our home while being conscious and caring of our items. Things are always put back in their correct place- which I've never had with a cleaning service before as I always have to go back and adjust- so this was a big plus for my OCD self 🙂 Our dog is usually home and they are sweet with her and clean around her. Jen has great management, communication and active listening skills in meeting and accommodating our cleaning needs.
Crew cleans thoroughly and efficiently!!! The Queen even rescued my dying orchid. They go above and beyond regular cleaning crews.
This was the best experience with a cleaning service ever. They are so great at what they do and very professional. They did such a wonderful job I get biweekly cleanings now.
A very professional service and the results are amazing. My house literally sparkled. When you see a cleaning girl turn the dining room chairs over, and clean the bottom of the feet of the chairs, you know you have a one in a million cleaning service. I can't rave enough.
Jennifer was a delight to work with. She helped us to find the perfect home as she quickly understood what we uniquely wanted and efficiently focused on homes that matched. As we moved through exploring and offering, she was savvy and proactive. We were purchasing our home remotely, and we were able to rely on her assessment of many items. She gave us phenomenal assistance with so many practical aspects of assessing the property, negotiating, moving in and local resources and services. On top of all that she is kind, connected and a joy to work with.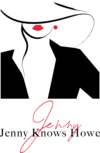 Follow Me On Social Media!